New Zealand has some of the best food manufacturing and processing teams in the world. As art of that team, it is our responsibility to ensure that as an industry, we are providing you with the right resources, the auditing process and cleaning professionals for your Manufacturing or Processing Plant.
As we strive for Excellence, we take an approach that incorporates our core values and along with key indicators to ensure we are exceeding your expectations.
Operating in New Zealand, Cleanmaster International is today a national provider of cleaning and sanitation services to the food industry.
Across both countries, we have partnered with some 80 businesses in the white and red meat industry, further processing and fresh produce, which has established Cleanmaster International as a clear market leader in the field.
Health and Safety First
We strive to create a culture where we are inclusive of all involved in the cleaning process, from the cleaning professional to the owner we are all part of a team that makes safety a priority
Infection Prevention
With a team at the forefront of infection prevention, we will collaborate with you to be a part of your integral value chain ensuring that all equipment, machinery and team members are kept safe by have the right processes in place
Improved Efficiency
With a dedicated team of professionals and the latest technology available, we can tailor cleaning requirements based on your individual needs. Using the latest in electronic Auditing, pressure washing and chemical dispersal systems, we can ensure that the cost of cleaning is maintained within any financial constraints. Improved efficiency will also assist in waste management and extending the life of any plant or machinery equipment within your site.
Compliance
Ensure all regulatory and legislative requirements are met or exceeded when it comes to the health and safety of the teams. This must be done by professionals to ensure compliance. We also ensure that all staff are paid at the correct rates along with all their relative awards
Across all Manufacturing industries
Cleanmaster International currently provides successful cleaning and sanitation services to the following segments in the food industry:
Meat processing - red meat & pork
Fish & seafood processing
Fresh Produce
Food manufacturing
Dairy and beverage manufacturing
Snack food production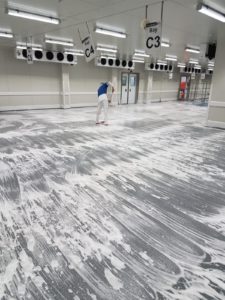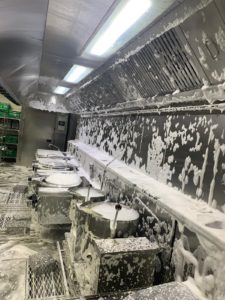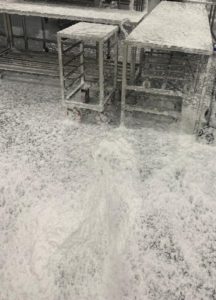 As you can gather from our history, we at Cleanmaster International are focused on becoming the best and most valued provider of specialised hygiene solutions. More specifically, our vision is:
"Cleanmaster International aims to be the leading and most innovative Food Hygiene Solutions Enterprise in the Southern Hemisphere"
The only way Cleanmaster International can achieve this is to follow our mission, which is:
THE CLEANMASTER INTERNATIONAL SERVICE PROMISE
"We at Cleanmaster International, are totally committed to ensuring that we become the Hygiene Leader in the Food Industry by consistently delivering Quality Solutions"
Today, the high cleaning and safety standards required by Governments and other organisations, makes it pertinent that "Our Client" complies with the standards in order to survive. The senior management team of Cleanmaster International have together more than thirty years of experience working with hygiene solutions in the food industry, and know what it takes to comply with the present day and the future standards. By joining in a partnership with Cleanmaster International, we can ensure that all compliance requirements are met. More specifically, Cleanmaster International will deliver:
Compliance with accrediting systems such as:
FoodSafe, AQIS, ANZFA, TRICON, AIB

Compliance with third party auditors:

GMP, HACCP, EFSIS
Furthermore, because we, at Cleanmaster International, specialise in sanitation and cleaning within the food industry, we have built up a wealth of valuable experience and knowledge spanning all areas of our business, from management and planning, through to control and partner focus.
Cleanmaster International also ensures that because we are committed to quality and continuous improvement, we will provide the following:
Qualified Employees: All Cleanmaster International employees undergo professional training, and are furthermore continuously educated in new technology and procedures.

Discipline: Cleanmaster International employees and management believe in discipline, and are thus highly dependable and quality-minded.

State of the Art Technology: Resulting in increased water efficiency, higher safety, better reliability, and more detergent efficient.

Better Communication: Cleanmaster International realises the importance of proper communication, as every part of our activity on site takes place in form of formal written communications between production and cleaning teams. Better communication minimises disruptions to production schedules, eliminates finger pointing, and allows for verification whilst driving the standards.
A clean that measures up.
Submit your request online by filling out the form